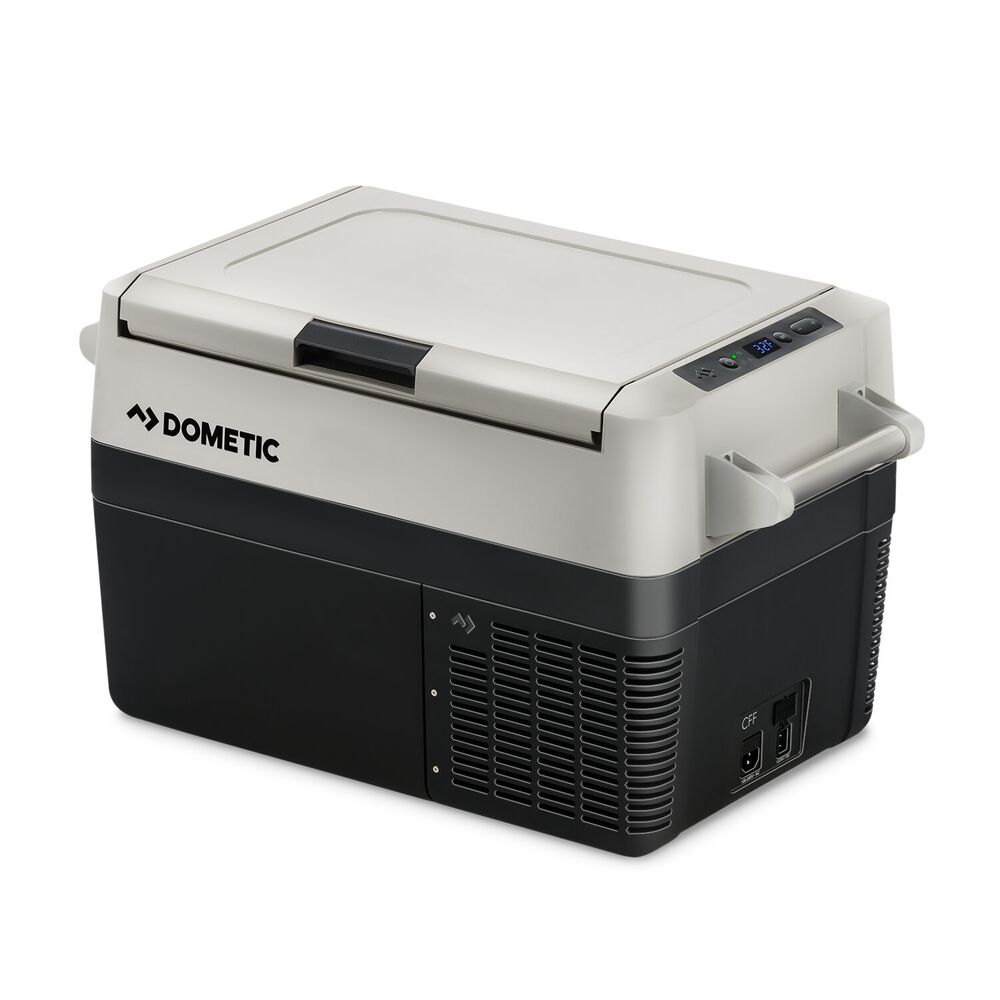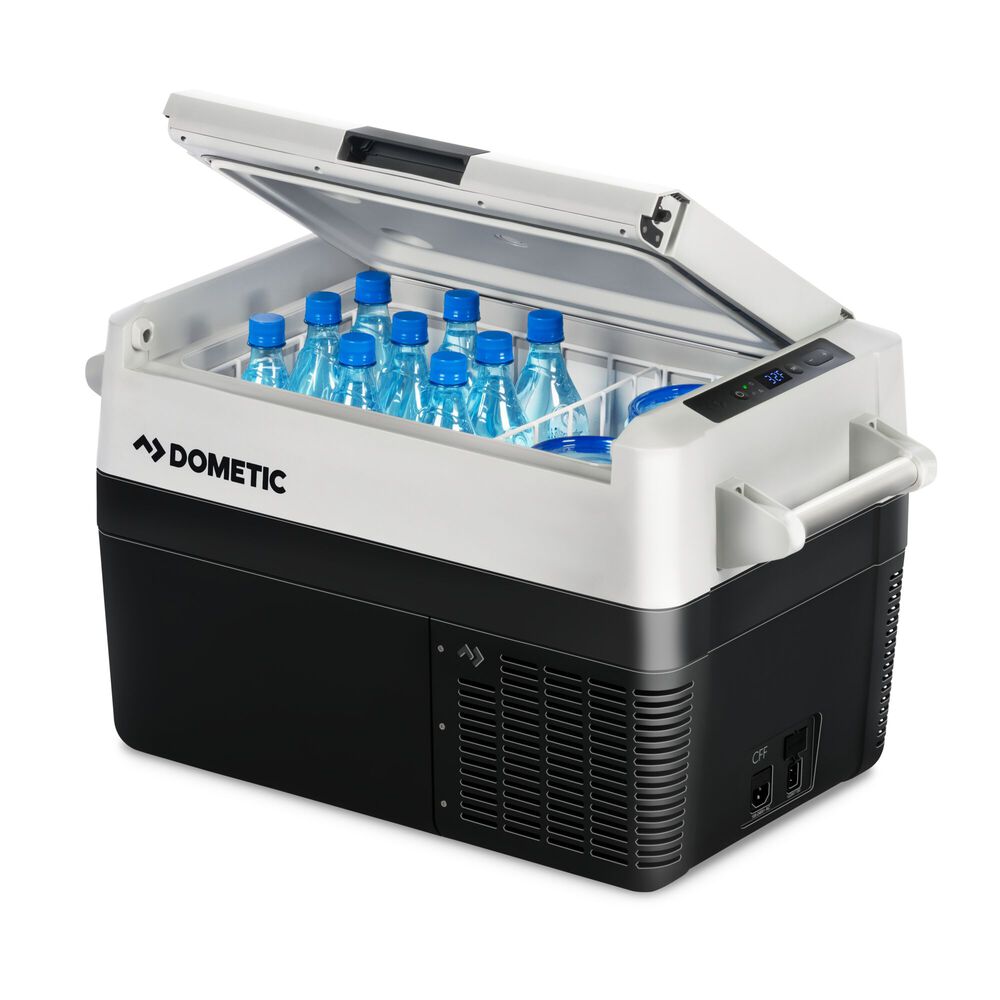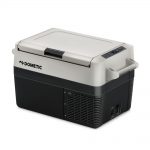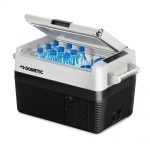 Dometic CFF 35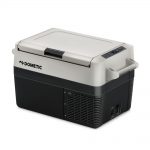 €749,00
Dometic Φορητό ψυγείο και καταψύκτης (συμπιεστή), 30l
BRAND: Dometic, Waeco
ΒΑΡΟΣ ΠΡΟΪΟΝΤΟΣ: 24.1kg
Περιγραφή
ΤΕΧΝΙΚΑ ΧΑΡΑΚΤΗΡΙΣΤΙΚΑ
Περιγραφή
Dometic's versatile addition to the portable powered cool box range comes with a stylish design, a double hinged lid and is complemented by an efficient interior storage layout that will suit all types of outdoor enthusiasts. The generous insulation built in to the CFF 35 ensures excellent cooling performance.
PORTABILITY MEETS EXCELLENT COOLING PERFORMANCE
Weighing in at under 8 kg, the CFF 35 stretches every one of its 30 litres of volume – resulting in one of Dometic's most economical portable fridge/freezers yet. The interior storage allocation is at the forefront of the Dometic CFF 35's design, with the result providing a more uniform temperature distribution throughout the interior. This coupled with the generous insulation results in moderate power draw from the battery, making the Dometic CFF 35 a great choice for adventurers truly living mobile.
Double-sided opening lid
User-friendly lid hinge design
Fits standard 1.0 l bottles upright
Optimised storage volume with a single interior compartment for either cooling or freezing
Generous insulation for better cooling performance and energy efficiency
30 l of storage for convenient cooling
Double sided lid for user-friendly opening
Energy efficient design provides fast and excellent cooling and freezing, even in extremely high outside temperatures
Single compartment allows either cooling or freezing
Can be set between +10 °C and –18 °C, with the ability to run at –18 °C at ambient temperatures of up to +32 °C
Robust and compact design ensures excellent portability
INNOVATIVE REVERSABLE LID OPENING
The CFF 35 provides the essentials; serious spacious storage combined with impeccable insulation, topped off with an attractive design. Dometic has designed the CFF 35 so that it contains the most efficient interior storage layout, along with an innovative double-sided opening lid; allowing access from either side which is convenient given the size constraints of your motorhome or boat. This 7.8 kg construction really does demonstrate what happens when portability meets excellent cooling performance. Adventurers will love the new glass filled nylon and steel handles, making for a comfortable and reliable use first time, every time.
EMBRACE THE OPTIMISED SPACE
The Dometic CFF 35 features a double-sided opening lid, which makes it a versatile portable cool box or freezer that is user friendly, robust and easy to carry. It comes with a digital electronic control system and can keep its interior as low as –18 °C. Enjoy the flexibility to choose between running the CFF 35 as a fridge or freezer, removing the boundaries when it comes to deciding what to pack for a trip. The CFF range was designed for a more effective use of storage space and temperature distribution, while the generous insulation helps to optimise cooling performance and energy efficiency. The CFF line is a perfect choice for the outdoor enthusiast to upgrade from a traditional ice chest.
General
Product Description: Portable compressor cool box and freezer, 30l
SKU number: 9600026458 (UK Spec), 9600024842 (EU Spec)
Model: CFF35
Label: CFF35
Scope of delivery: 1 cooler, 1 DC connection cable, 1 AC connection cable, 2 carry handle, 1 manual
Single or Dual Zone: Single
Refrigeration technology: Compressor
Dimensions
Depth: 715mm
Height: 407mm
Width: 398 mm
Gross volume (EN62552): 35.00l
Storage volume - total (EN 62552): 34.00l
Performance
Refrigerant, type: R134a
GWP: 1430
Energy Consumption 12VDC (Ambient@90 ºF, Internal@39 ºF):1.03Ah/h
Insulation Type: PU (Polyurethane)
Additional
Colour: Grey
USB Port: N/A
Basket: Yes
Drain plug: No
Interior light: Yes, LED
Certificates: CE, ETL